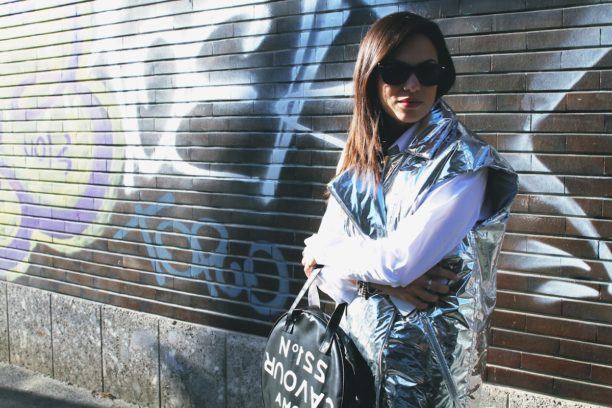 Marios mi ha portata sulla luna.
Fly me to the moon
Let me play among the stars
Let me see what spring is like
On Jupiter and Mars….
Ammetto la stravaganza dell' outfit, ma, lo vedete questo smanicato? fosse per me lo indosserei ogni giorno, per fare un ingresso "giusto" al Plastic o per andare a far la spesa al Carrefour di Milano Fiori, senza nessuna differenza. Quando una cosa è bella, lo è punto e basta. C'è una bellezza oggettiva, e su questo siamo tutti d'accordo, no? il Duomo di Firenze, è oggettivamente -WOW-, un tramonto o un' alba sulla spiaggia sono oggettivamente meravigliosi, una coppia di anziani che si abbracciano sul piazzale Michelangelo guardando la città immensa, sono oggettivamente bellissimi. Ma poi, tutto il resto è soggettivo. La bellezza soggettiva va oltre perchè è personale, perchè è fatta di sensazioni, perchè ha una sua unicità. C'è una bellezza che viene da dentro, quella dell'anima che sprigiona luce, una luce che esalta qualunque cosa indossi, con eleganza. Questo è uno degli ultimi outfit scelti per la Fashion Week di Milano, quando essere stravaganti è una necessità: tanto vedrai sempre qualcuno che lo è esageratamente più di te. Mi sono svegliata un po' filosofa stamattina, buon lunedì!
Vest Jacket Marios
Blouse Marios
Skirt Super Trash
Bag 5Preview
Sneaker Creepers Jeffrey Campbell
Sunglasses Ray Ban
Photos by Caterina Celada