Il periodo natalizio è il momento in cui brand e aziende si sbizzarriscono nel richiamare il consumatore all'acquisto. Quale modo migliore per affascinare (e convincere) se non quello di uno spot televisivo? Apripista del genere fu Coca-Cola che dagli anni '80 accompagna il Natale di grandi e piccoli con spot indimenticabili.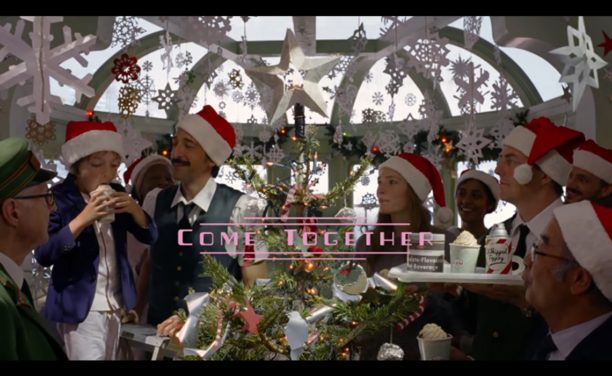 Quest'anno molti altri brand hanno fatto le cose in grande, dal già citato spot della nuova fragranza Burberry ad Apple ed H&M. Ecco gli spot più interessanti da intercettare in tv o in rete.
H&M – Lines Winter Express
L'azienda svedese ha puntato sulla qualità affidando al geniale regista Wes Anderson l'interpretazione del Natale. Il risultato è un caldo spot, ambientato a bordo di un treno color pastello che viaggia in ritardo, con protagonista Adrien Brody capotreno che invita i passeggeri a raggiungerlo per un brunch natalizio a base di cioccolato e panna montata. Colori, linee geometriche e tenerezza.
Apple – Frankie's Holiday
Spettacolare lo spot della "Mela" con protagonista un Frankestein dal cuore d'oro che registra sull'iPhone 7 la melodia di un carillon (l'azienda statunitense unisce abilmente oggetti antichi e malinconici con la modernità dei cellulari). L'intento del "mostro" è quello di recarsi nella piazza del paese e cantare davanti a tutti la canzone Home for the Holidays dei Carpenters. Grazie all'affetto di una bambina riuscirà nella sua impresa.
Heathrow Airport – Coming Home for Christmas
Dolcezza e commozione in quantità per lo spot dell'aeroporto londinese di Heathrow con protagonisti due orsetti, marito e moglie, di peluche, in viaggio per tornare a casa dalla propria famiglia.
John Lewis – Buster The Boxer
Come ogni anno i grandi magazzini londinesi John Lewis sono pronti a stupirci, questa volta con un cane boxer protagonista dello spot. Il padre compra alla figlia un tappeto elastico e lo sistema in giardino pronto alla sorpresa la mattina di Natale. Ma durante la notte gli animali del bosco scoprono la bellezza del tappetto, iniziano a saltare invidiati e osservati dalla finestra da Buster, il cane, che aspetta la mattina dopo per giocare sulla rete. Lo sbigottimento della famiglia è divertente e unico come il regalo che "tutti amano".
Pushed by Luisa Lenzi