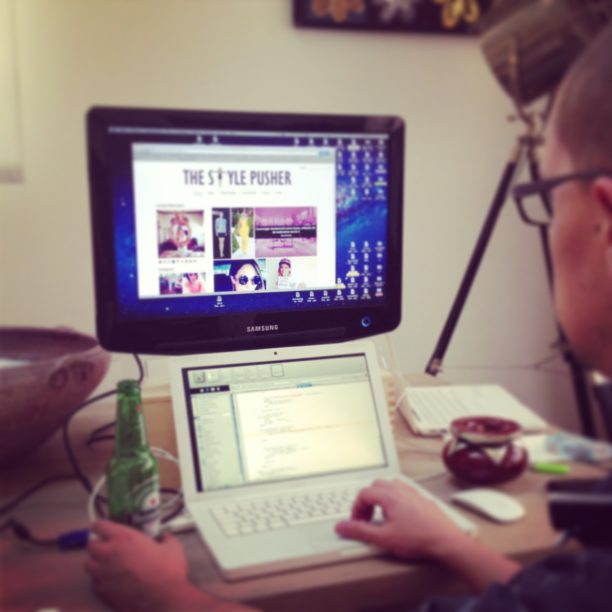 The Style Pusher sta prendendo forma, io sto imparando ad usare WordPress e la sensazione di onnipotenza che mi da poter accedere e navigare su un sito web che ancora "ufficialmente" non esiste, è meglio di una birretta fresca dopo una giornata di lavoro.
L'uomo con la mano destra sulla tastiera del Mac e nella sinistra una Heineken è Giordano Fracasso, il mio programmatore di fiducia, nonchè amico, nonchè spacciatore di "cultura informatica". Lavoriamo insieme a tanti progetti, da anni ormai, giornate e nottate intere davanti al Mac, mille chiacchiere e milioni di idee. La mia deformazione professionale per il marketing e la comunicazione unite alla sua per il mondo del web sono una miscela esplosiva.
Lavoriamo tanto e ci perdiamo in mille discorsi e litri di caffè, ma il nostro forte sono le cene improvvisate: il pollo al forno con una delicata fase di "irrorazione" di olio e spezie che lo fa uscire "bello succulento" ( qui si chiama in causa un altro amico, lo "Chef Paul" ex studente della "Scuola Internazionale di cucina Italiana" di Gualtiero Marchesi)
In questo momento Giordano sta lavorando su The Style Pusher e la cosa un po' mi inquieta, credo sia capace di leggere questo post "live" mentre scrivo: "Giordano mi leggi?" (Twitter Cit.)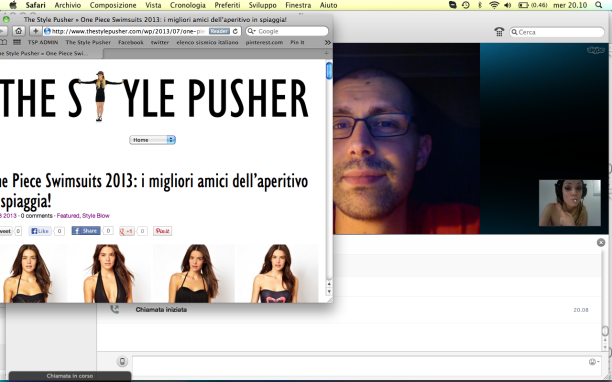 Per dimostrare che "è tutto vero" ecco una foto di noi due che lavoriamo su Skype, che poi "lavoriamo" è una parola grossa, è talmente un piacere "collaborare" con gli amici, scambiarsi idee, impressioni e progetti! Insomma, grazie Giò, questo post è per te, che continui a volermi bene anche dopo aver saputo che ho problemi di sonno, e aver rischiato di farti prendere un colpo incrociandomi nel corridoio,  in pieno attacco di sonnambulismo.
Big up 4 Giordano!