Il 16 settembre scorso, presso il meraviglioso ristorante The Small di Milano, la designer Newyorkese Monica Byrne, ha presentato la collezione PE/2014 di Bon Vivat.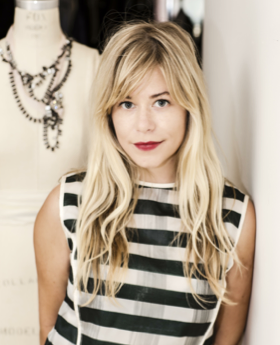 Monica Byrne
Recognized industry wide for her distinctive work with some of today's most influential designers including, Vera Wang, Jil Sander Navy and Donna Karan, Ms. Byrne is taken with the beauty of clean lines, exceptional tailoring and a masculine read on feminine dress. 
Bon Vivat veste una donna raffinata ma fuori dal comune, la semplicità delle forme, i materiali ricchi, i tessuti moderni e senza tempo contraddistinguono una collezione ricercata.
Sprite, Bright and delicately refined, the Bon Vivat girl is something a bit out of the ordinary. She is recognized for her discerning taste, not just for the finer things in life, but for life! She is an invigoration blend of knowing strength and poetic femininity, leading with the heart of an adventurer.
Spring/ Summer 2014 Collection Inspiration
Sete italiane e tessuti "hand-painted", Monica Byrne collabora con artisti come Astrid Ferrugio, rendendo ogni capo una piccola opera d'arte. Iuta, vinile, cordini, tutto impreziosito da accessori, gioielleria in vetro, maxi borse e "cuffie". La collezione è ispirata al film di Francois Ozon 'Swimming pool' "
The ceremonial pool culture lounges on plastic chairs and alongside granite edges, observes each other, dips into the bright blue water and returns day after sunny day. Inspired by the cinematography in François Ozon's film The Swimming Pool, the Bon Vivat Spring/Summer 2014 collection takes this collective ritual and transports it to the city.
Il giorno della presentazione di Bon Vivat ero a Parigi per Premiere Vision, nonostante ciò Lucie mi ha aspettata e ho avuto modo di vedere e soprattutto toccare con mano questa splendida collezione. I tessuti sono meravigliosi e le sete stampate rendono ogni capo unico e irripetibile, un concetto molto ricercato nei trend di stagione che sicuramente decreterà il successo di Monica Byrne e delle sue creazioni.
Grazie a Lucie, Mary Marchesano e Sabrina Querci
Fonte: tutti i diritti restano riservati Bon Vivat