Ho conosciuto Flavia il 31 gennaio del 2012, alla festa dei 30 anni di Radio Dj. Me lo ricordo ancora quel momento, semplicemente perché Flavia indossava una gonna lunga fatta di paillette dorate, che -wow!- hanno attirato in un secondo la mia attenzione. "Che bella di chi è questa gonna?" – "Mia, l'ho disegnata io, ho da poco lanciato la mia linea" e da quel preciso istante, è stato amore. Insieme al team di un altro progetto che seguo (CCT-SeeCity) abbiamo intervistato Flavia all'inizio della sua avventura, ed è con immenso piacere che oggi, posso parlarvi di lei come una delle più talentuose fashion designer emergenti. Tanto per fare un esempio, Flavia è stata uno dei tre vincitori dell'iniziativa promossa da Vogue Italia "The Talents Night – Buy Talents in One Night" !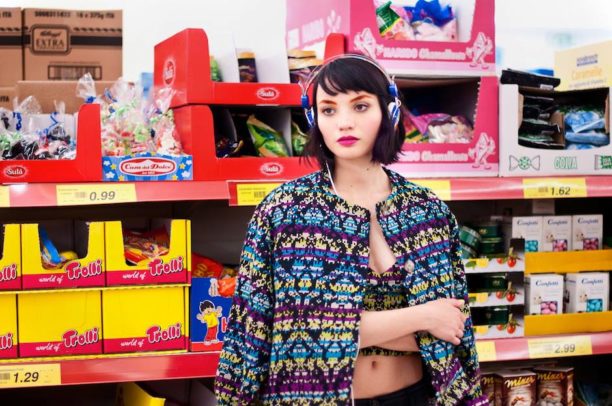 I concetti chiave sono due: abiti che si trasformano ed ecosostenibilità, sommateli ed avrete una collezione davvero unica. Gli abiti di Flavia La Rocca sono multifunzionali, si adattano ai diversi momenti della giornata, cambiano a seconda delle esigenze di chi li indossa, grazie a bretelle removibili, zip e bande elastiche.
In quello che può sembrare un solo abito, ci sono almeno tre diversi look! Il design è pulito, le linee geometriche, i tessuti ricercati per una collezione giovane, fresca e soprattutto made in Italy. Flavia trae ispirazione dalla vita frenetica della città, dalla realtà di tutti i giorni e dalle necessità di ogni donna, le sue icone infondo sono proprio le sue clienti, tutte coloro nelle quali è possibile ritrovare "sintonia tra l'apparire e l'essere, tra l'abbigliamento, la gestualità e la personalità."
Nella galleria fotografica che vi ho proposto sopra, indosso alcuni dei modelli continuativi del brand, quelli di cui non potrei proprio fare a meno. Durante i miei viaggi di lavoro, sono la soluzione perfetta alle mie esigenze, non ho neanche bisogno di una valigia…mi basta una borsa! ogni abito si fa in tre, ho la soluzione adatta all'appuntamento di lavoro del mattino, poi, mi basta chiudere o aprire una zip e in un attimo ecco pronto l' outfit per l'aperitivo e per la cena. Sul sito di Flavia La Rocca mi troverete anche in versione modella per il lookbook della collezione AW/2013, date un'occhiata qui. Pochi giorni fa, ho avuto la possibilità di vedere in preview la collezione SS/2014, non vi anticipo nulla, credete alla mia parola: è meravigliosa! Tra le tante novità in programma anche uno shop online e vendite private -made to order- ovvero la personalizzazione del capo su richiesta! Per essere sempre aggiornati seguite Flavia La Rocca su Facebook e Instagram.
Grazie a Michela Ceruti per le foto e un grande in bocca al lupo a Flavia per la sua carriera!
Ps: Flavia oltre ad essere una bravissima Designer, è anche la super Stylist di un belloccio, nonchè talentuoso cantante Italiano… un certo Marco (Mengoni!)
Save time, space, energy and resources. Clothes able to transform themselves. Elastic bands, zips, buttons. A new way of doing fashion, a new attitude: an evolution. PLAY.