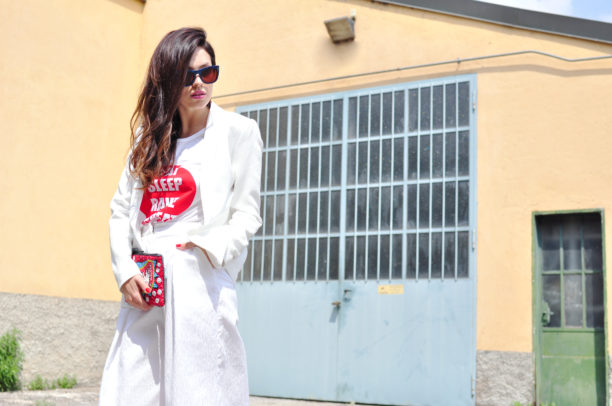 "Lo stile, è il ritratto di uno stato mentale" A Milano è arrivato "M" Sollective Store! 
Per M, gli stili sono tre livelli di stati d'animo:
Minus, Much, More
, e i prodotti che possiamo trovare al suo interno sono suddivisi secondo le tre categorie. Minus, significa minimale, predominanza di bianco e nero, quiete ed equilibrio, Much s'ispira a tutto ciò che è sofisticato, elegante, sartoriale, mentre More, rappresenta l'esagerazione, la stravaganza e l'evasione. Tutto all'interno di M è curato nei minimi dettagli, a partire dalle shopping bag e i cartellini, piccole opere d'arte realizzate da artisti come Davide Pagliardini, Chiara Capellini, Lorenzo Piccinini. M è
il mio nuovo riferimento per lo shopping Milanese
, e sono felce di consigliarvelo, oltretutto troverete al suo interno i capi che ho personalmente selezionato, indicati da un'etichetta con su scritto il mio nome. In queste foto uno dei miei look!
"Style is a portrait of a state of mind". "M" Sollective Store arrived in Milan. For M, styles are three states of mind: Minus, Much, More and the items we can find inside it can be divided by those three categories. Minus means minimal, with the predominance of black and white, quite and balance, Much takes its inspiration from everything that is sophisticated, elegant, high fashionable, while More represent exaggeration, extravagance and evasion. Everything inside M has been looked after in details, starting from the shopping bags and the price tags, which appear to be artwork realized by such artists as Davide Pagliardini, Chiara Capellini, Lorenzo Piccinini. M is my new point of reference to do shopping in Milan and I am happy to suggest it to you, moreover you can find those items I personally chose, highlighted by a tag with my name written on it. In these pictures I am wearing one of my outfit!
Jacket Super Trash
Tshirt Department 5
Pants Come For Breakfast
Sneakers Moa – Master of Arts
Bag Essentiel