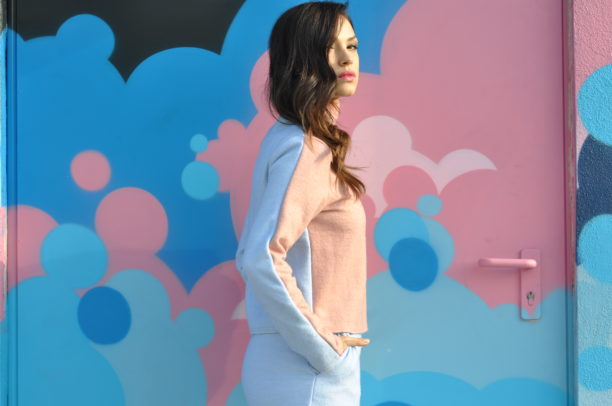 Io che vesto quasi sempre di nero, negli ultimi tempi ho una fortissima attrazione per i colori pastello..
Psicologia del colore, vieni in mio aiuto?
"Blu/Azzurro: il colore della mediazione, delle sensazioni, del cielo, della trascendenza dell'eterno dell'infinito impenetrabile e misterioso. Pace, calma, tranquillità, comprensione, tolleranza, energia mentale e profondità di sentimenti, sono rappresentati da questo colore che evoca anche il bisogno di amore, di affetto, di tenerezza. L'archetipo del blu è l'acqua, il mare, ma anche il cielo. Chi lo preferisce desidera situazioni serene, armonia ed intesa profonda nelle relazioni umane. Rosa: esprime amore incondizionato, dolcezza, tenerezza, gratitudine, ammirazione, comprensione, nutrimento, delicatezza e tranquillità. In alcune culture orientali è simbolo di felicità perfetta, raffinatezza e modestia. In psicologia il rosa rappresenta la speranza, è un colore positivo che ispira sentimenti di calore e conforto, calma le nostre energie emozionali, allieva i sentimenti di rabbia, aggressione e risentimento"
I was used to wear in black, but lately pastel colours attract me… Psychology of colours, is it going to help me? "Blue: it is the colour of mediation, feelings, sky, transcendent, eternity, infinity, mystery. Peace, calm, tranquillity, comprehension, tolerance, mental energy and deepness of feelings are represented by this colour that evokes the need for love, fondness, tenderness. The prototype of blue is water, sea but also sky. People who elects blue colour wish for peaceful situations, harmony and deep understanding in the human relations. Pink: it expresses unconditional love, sweetness, tenderness, grateful, admiration and understanding. For some Eastern cultures, pink symbolizes the perfect happiness. In psychology it represents hope, it inspires warm and comforting feelings, it calms down our emotional energies, it reliefs anger and aggressiveness". 
Total Look Made For Loving 
Bag DKNY 
Ring Just Cavalli 
Photos by Andrea Fabbian