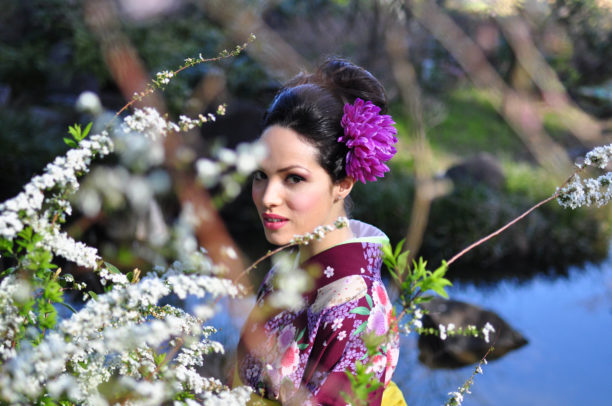 Una delle esperienze più belle della mia vita, il momento della "vestizione" è stato davvero emozionante!
Al mattino presto, io, La Pina, Chiara e Kaori, abbiamo preso la metro, un bel caffè caldo e ci siamo dirette in un quartiere della città dove avevamo "prenotato" i nostri Kimono. Una casa tipica giapponese, piccolissima e su due piani, una stanza piena di accessori di vario tipo, obi di mille colori e sfumature, cotoni e sete, una meraviglia per i nostri occhi! Due signore anziane, minute, educate e silenziose, dopo averci lasciato scegliere il nostro kimono tra tantissime opzioni, hanno iniziato a vestirci. Il procedimento è durato circa venti minuti per ciascuna, la vestizione prevede che si utilizzino una serie di "strati" tra cordini, tessuti e asciugamani, biancheria intima e accessori di vario tipo. Strette nel nostro abito tradizionale, pettinate e truccate alla giapponese maniera, siamo uscite per le strade della città e vi giuro che non sono mai stata tanto fotografata, niente al confronto la Fashion Week di Milano o il red Carpet di qualche evento importante! Probabilmente vedere un'occidentale vestita in Kimono è qualcosa di eccezionale, deve essere stato questo il motivo di tanta "attenzione". Il punto è che ci siamo divertite come matte, anche se ammetto che in alcuni momenti respirare è stata dura, tanto era stretto il mio kimono…
Early morning, La Pina, Chiara, Kaori and I went to a neighbourhood where we had reserved our Kimono. A small Japanese house, full of obi of different colours, wool and silk… wonderland to our sight! Two elder and polite women let us choose the kimono out of many options and started to dress us up: this procedure lasted about twenty minutes for each of us, requiring different layers of textiles and accessorizes. All dressed up Japanese women, we walked down the streets of the city. I swear never before I have been the objective of so many pictures: maybe the sight of a Western woman wearing a Kimono is something unique. No matter what, we had so much fun, even though I must confess sometimes it was hard to breathe, for the Kimono being so tight fitting.