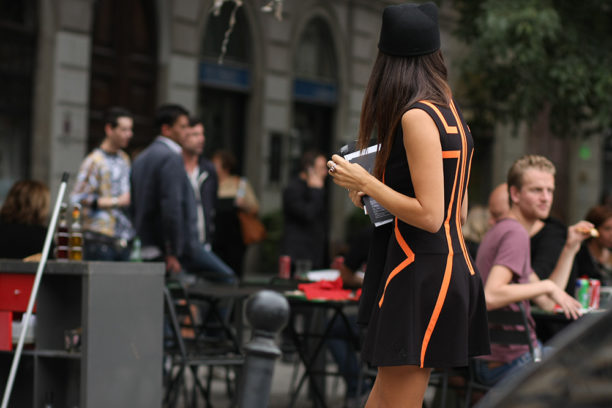 Mi sono innamorata delle geometrie e dei cappelli con le orecchie. 
Due cose che non c'entrano niente l'una con l'altra, volendo, ma che sono riuscita ad abbinare bene in uno dei miei primi look della #Mfw. Ero sveglia dalle 5 di mattina, dopo una serata a Londra ospite di Johnnie Walker, un po' assonnata e senza occhiali da sole per nascondermi. Appena ho visto questo abito, mi sono persa nei suoi contrasti e nelle sue linee, ho cercato di dargli risalto utilizzando solo accessori neri, volevo che il colore arancio, quasi fluo, e le forme che delineava, uscissero senza mezze misure. Il cappello con le orecchie, in feltro, l'ho comprato in un negozio all' Isola d'Elba, in pieno agosto, in una giornata caldissima, sapevo che sarebbe arrivato presto il suo momento: mi piace perchè è particolare ma non esagerato. Durante questa settimana di delirio, Andro.id mi ha accompagnata spesso in giro per sfilate ed eventi , colgo l'occasione per ringraziarlo: fare le cose insieme è sempre molto più divertente e stimolante!
I found myself in love with geometrics and hat with ears. Two things that apparently don't match nothing one each others, but I was able to combine in one of my first #Mfw outfit. I woke up at 5 am, after a night spent in London, guest of Johnnie Walker: as soon as I saw this dress, I found myself lost inside its contrast and its lines and I tries to highlight it using black accessorizes, in order to stress the orange colour. The hat with the ear comes from a shop in "Isola d'Elba": I love it because it is something peculiar, but not exaggerated one. During this frenzy week, Andro.id often came around with me at shows and parties: thank you, doing things together is always more exciting and pleasant. 
Y-3  Dress
Maison Scotch  Hat
Andro.id indossa un total look Emporio Armani
Photos 1-2 by Stefano Carloni @MrTuft
Photo 3 by Luca Ava